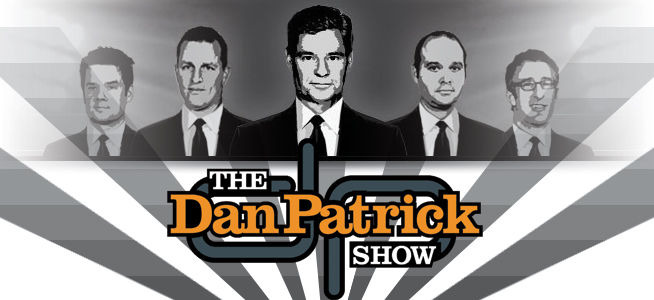 Listen Weekdays 1PM-3PM
Legendary multi-platform sports host Dan Patrick entertains America every weekday morning on The Dan Patrick Show. The program is simulcast live on DIRECTV's Audience Network, AT&T's Regional Sports networks, streaming on BRLive, the Dan Patrick Channel on SiriusXM and 360 of America's top sports stations on the Fox Sports Radio Network. The Dan Patrick Show is seen by over 2 million viewers weekly.
The Dan Patrick Show features extensive A-list interviews from the world of sports and offers Dan's unique perspective and dry sense of humor on the top stories and personalities of the day. Dan is joined by his trusted sidekicks The Danettes.
Dan may be best known as an anchor on ESPN's SportsCenter, where he hosted the show with Keith Olberman, Stuart Scott and Rich Eisen from 1989-2006. He hosted The Dan Patrick Show on ESPN Radio from 1999-2007.
Sports Emmy Award, 1998, Studio Host
Sports Emmy Award, Outstanding Sports Personality, nominated seven times
National Association of Broadcasters Marconi Award:

2012 Network Syndicated Personality of the Year
2015 Nominee, Network Syndicated Personality of the Year
2016 Nominee, Network Syndicated Personality of the Year 
(Winner announced September 22, 2016, at the NAB Convention inNashville)

National Sportscaster of the Year, 2000, by the National Sportscasters and Sportswriters Association.
Olympic Coverage for NBC: 2010 Vancouver, 2012 London, 2014 Sochi
Super Bowl Lombardi Trophy presenter for SuperBowls XLIII, XLVI and XLIX.
Movies and Television: Dan Patrick has made numerous cameo appearances in 17 movies, from 1997 through 2014, many with his friend Adam Sandler.
The Definite Maybe (1997)
Arli$$ (1998)
BASEketball (1998)
The Waterboy (1998)
Clerks (Animated ABC program) (2000)
Clone High (2002)
The Longest Yard (2005)
Benchwarmers (2006)
I Now Pronounce You Chuck and Larry (2007)
The House Bunny (2008)
Grown Ups (2010)
Blue Mountain State (2011)
Just Go With It (2011)
Jack & Jill (2011)
That's My Boy (2012)
Grown Ups 2 (2013)
Blended (2014)
The Ridiclulous 6 (2015)
Music Videos:
1995 Hootie and the Blowfish "Only Wanna Be With You"
2002 Brad Paisley "I'm Gonna Miss Her"